Frequently asked questions
New Spa Set-up
How do I fill my spa with water?
---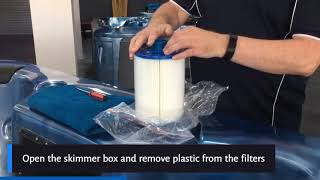 First, you need to open the skimmer box, unscrew the filters and remove the plastic from the filters. Next place the hose in the hole then turn on the hose and start to fill up the spa. Depending on what model of spa you have, you may have a different type of skimmer box.
---
How do I add the Startup Chemicals?
---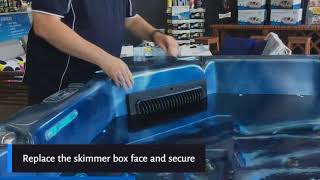 When your spa has been filled up with fresh water, you will need 1 teaspoon of Spa Oxyshock, 1 teaspoon of Spa Chlorine and the bag of magnesium in your spa startup kit. The video above will guide you on how to properly add the chemicals to your spa.
---
How do I operate the controls?
---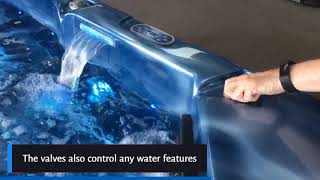 Depending on the model of your spa, you may have a different kind of controller. The buttons on the controllers will be 1 or 2 jet pump controllers, a light controller and a temperature setting button (with up & down arrows). The video above explains the functions.
---
What temperature should I set the spa for?
---
It's really a personal preference. Your spa will reach as high as 40 degrees, however most people tend to choose 35/36 degrees in winter and 28-32 degrees in summer.
---
How often should I clean the filters?
---
This really depends on how often you're in the spa but as a rule of thumb, we recommend hosing the filters every 2 weeks and soaking the filters in a cartridge cleaner solution every 2 months. A cartridge cleaner came with your starter pack. When you run out you can buy more from our shop.
---
How often should I change the water in my spa?
---
Depending on bather load, temperature etc, we generally say every 3-4 months. Spa HQ offers FREE water testing at the shop which will help to determine when its time to change your water.
---
---
Troubleshooting
How do I get rid of an airlock in the system?
---
How do I get rid of an airlock in the system?
---
Why won't my spa heat up?
---
Check your spa is in READY mode. See video for instructions. The other possible causes are dirty filters, the circulation pump isn't working or there is a problem with the heater.
---
How do I empty & refill my spa?
---
There is a drain point on the corner of your spa. Connect your garden hose and run hose to where you want water to go. Pull the drain fitting forwards to open the drain valve. You will feel it open and water will begin to drain.
---
Why is my spa water cloudy?
---
There are many reasons why spa water will go cloudy. Incorrect water balance is the most common cause, but other scenarios are - over-use of chemicals, dirty or worn filters, old spa water, heavy bather load and more. Lets start by having the spa water profressionally tested, bringing a water sample into the shop.
---
I've noticed a drop in jet pressure.
---
Remover your filters from spa and turn on jets, if pressure improves, your filters need cleaning. Hose out filters and if needed, soak overnight in filter cleaner. If the problem persists replace the filters with new ones.
---
Why does my spa water smell?
---
A smell coming from your spa is the waters way of telling you something is out of balance. Time to have your spa water professionally tested, bring a water sample into the shop.
---
One of my jets isn't working
---
Make sure jet is on, see video for instructions.
---
---
Buying a new Spa
What's included in the price of my spa?
---
Steps, Lockable Hard Spa Cover, Ozone, Startup Chemical Pack, Free Upgrade to Magnesium and Nature 2, LED Lighting, Stainless Steel Frame.
---
Do you offer finance or Interest free?
---
We use Handypay, a low interest finance company, who specialise in home improvement and renovation loans. If you prefer interest free, we offer Humm. You can use 'Humm Litttle Things' up to $2000 on the purchase of your spa.
---
How long will I have to wait to get my spa?
---
Spa HQ always carries plenty of stock. It's unlikely you will ask for something that we don't have in stock. However, if your spa needs to be custom built for any reason it normally takes around 8 weeks.
---
Do we deliver to country areas?
---
Absolutely... Spa HQ have happy customers in Bunbury, Busselton, Esperance, Albany, Kalgoorlie, Port Hedland, Karratha just to name a few.
---
Can you maintain my spa for me?
---
Absolutely... Spa HQ offers regular maintenance, testing and cleaning for many of our clients.
---
---